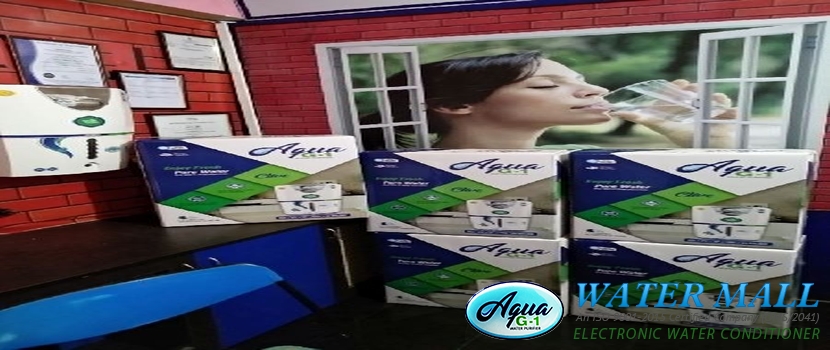 The Aqua G1 Water Purifier is one of those specially developed and manufactured water purifiers that would be extremely useful to people at their homes, offices and any other place. The supply of clean water is necessary for every kind of life form on this planet including thecase of humans. The regular tap water that is sometimes consumed by people might contain some dangerous microorganisms that could prove to be harmful to the health of those drinking it.


Hence, it is always advisable to use an advanced water purifier that can supply customers and their families with the cleanest possible water after eliminating the harmful bacteria is and other microorganisms present in it.
The Aqua G1 Water Purifier is clinically proven and acclaimed for preventing any kind of disease from the microorganisms of water.
This purifier would act as the certification of superior quality water from the customers or clients.
Installing this G1 water purifier at their homes can not only provide them with clean and healthy water to drink but can also help them save the unnecessary expenses that are otherwise spent on purchasing drinking water.
The water from these purifiers is completely free from harmful metals like lead.
The presence of certain important vitamins and minerals in such a purifier helps in maintaining the bodily functions of an individual. It would also ensure that the people or customers who are drinking this clean and healthy water do not suffer from Amy kind of gastrointestinal problems.
There can be improvements in the overall immunity system of the clients.
Some records and tests even show that the water from the Aqua G1 Water Purifiers can help the digestive system and its functions to perform smoothly and efficiently.


An Aqua G1 Water Purifier manufacturer can help their customers or clients to effectively mount and install the product in their kitchens. The whole process of installation of this G1 purifier is known to be much easier than the other products and it also requires very little space to fit. The manufacturers and wholesalers of this purifier are well-known among the customers in the market due to theiroutstanding installation services.


These specially designed purifiers are available in ranges of 8-15 litres of water capacity. Storing water in these purifiers is much easier and can be used for a long span of time. Being one of the best purifiers of the market the Aqua G1 would remove the excess amounts of unnecessary particles present in the water like excessive salt, microbes and suspended particles of dirt and dust that are not visible to the normal eye of a human without any microscopic device or instrument.


The people who deal with the wholesale Aqua G1 Water Purifier can ensure the customers or clients follow necessary industry standards and codes of purification. Water purification systems and devices have successfully drawna lot of attention from customers within the last few years. This can be identified as a good sign of progress as more people have started realising the necessity and importance of drinking water that is completely clean and good for their health.


The manufacturers and suppliers of these purifying and cleaning systems have always tried to stress the alternative to casual tap water. The comprehensive water cleaning and filtering system present in the Aqua G1 water purifiers have provided hundreds of customers with drinking water that has a great taste and is free from any kind of unnecessary odour.


Customers are always welcome to visit the retail stores of Aqua G1 water purifier in Maharashtrato understand the various details of installing this system in their homes. The experts and highly qualified professionals in such a store would inform the customers about the various benefits of using the Aqua G1 purifier that is used for purifying water.


The water from this purifier is not only used for drinking purposes but for also several other domestic purposes like washing the various fruits and vegetables in order to remove particles of dirt and other microorganisms from them, cooking and cleaning food items, preparing drinks like tea and coffee, watering the plants of the garden and many others.


Purifying the tap water of a home with help of RO and UV purification techniques can ensure customers with clean water that does not contain any strains of cysts, bacteria or disinfectants that are harmful to the body of a human. In earlier days, people used techniques like boiling to remove unnecessary particles from water.


But it is not possible to do so in the fast-paced life of a person nowadays. So it is always advisable to choose the water purifier that can effectively and efficiently clean the water just like the Aqua G1 water purifiers.